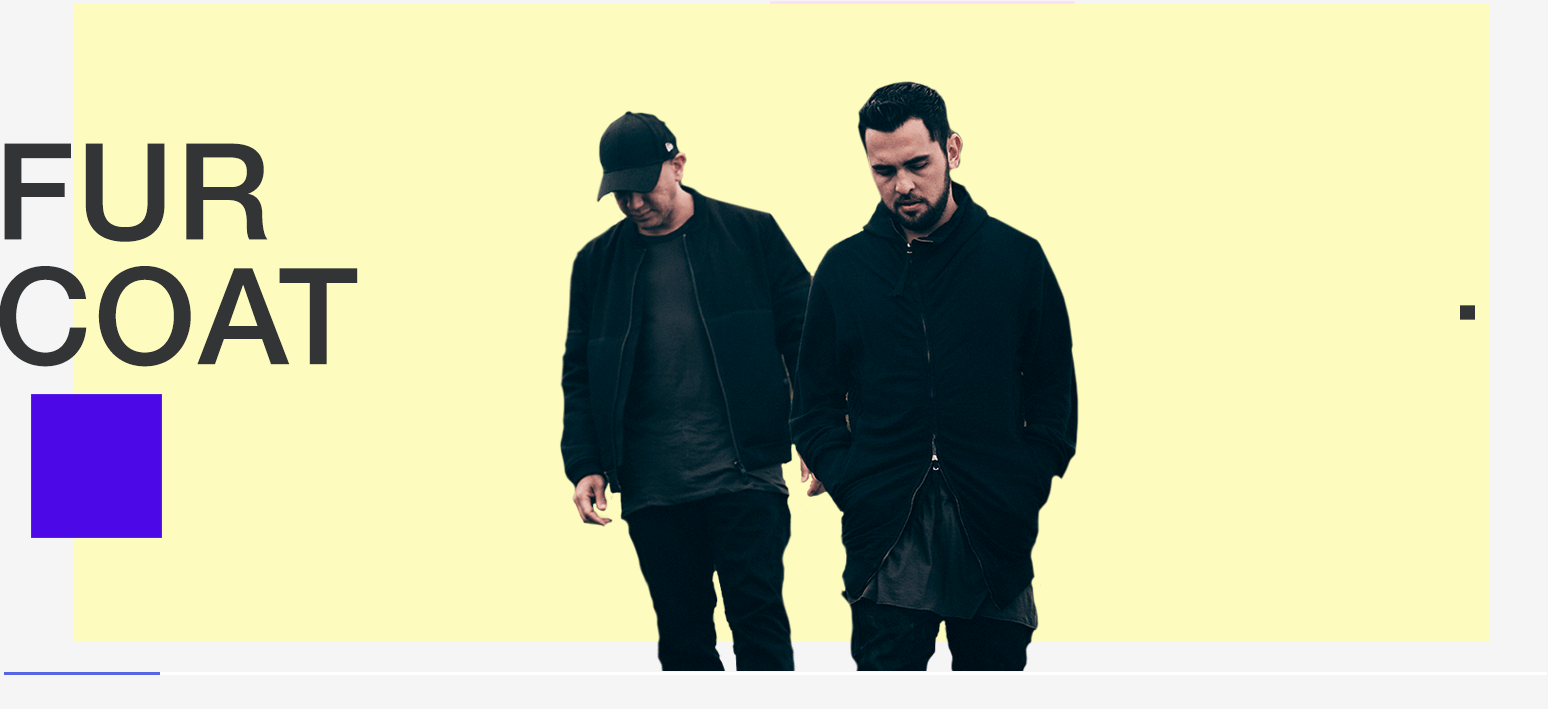 Hailing originally from Venezuela, Fur Coat have been heavily influenced by their exploration in Europe over the past decade and have developed their sound from theirSpanish base in Barcelona. Their story is one of passion for techno and electronic music, it's a tale of deep, dark driven beats and rolling grooves that both encapsulate the mind and move the feet. It was this love of music that in 2004 brought Sergio Muñoz and Israel Sunshine together and led to a musical intertwining which would drape itself over the shoulders of the music industry.
Over recent years the duo have aimed to evolve their sound but always keep their unique groove and melodic emphasis, focusing on delivering techno that mesmerizes the dance floor. In turn the pair have racked up releases on leading labels in the field, such as Sasha's Last Night On Earth Imprint, Berlin's distinguished Watergate Records, Ellen Alien's B-Pitch Control, Joseph Capriati's Redimension and Nicole Moudaber's MOOD Recordings to name a few... Their tireless output has continued to place Fur Coat at the forefront of their scene since their debut in 2011, and consequently has allowed the pair to tour extensively year after year frequenting venues such as Fabric London, WatergateBerlin, Warung Beach Club Brazil, Input Barcelona, Marble Bar Detroit, Rex Club Paris, Spy Bar Chicago, Crobar Buenos Aires, Hive Zurch, Space Miami and play to crowds atthe biggest festivals such as Coachella, Lightning In A Bottle, Balaton Sound, Audioriver, Loveland, Extrema and more.
The spark at the beginning of the duo's career was none other than Crosstown Rebels' founder Damian Lazarus, who unearthed Fur Coat and promptly signed and released their debut EP "Space Ballad". However it was releases such as 'You and I' featuring the vocals of Cari Golden in 2012, 'U Turn' released in 2014 also via Crosstown and the abiding'There's No Time' EP released via Jamie Jone's Hot Creations that truly catapulted the FurCoat name to notoriety. Along their journey from then until now the pair have accumulated a strong list of accolades... they were swiftly picked to contribute to the infamous Balance compilation mix series, as well as the highly respected Essential Mix on Pete Tong's BBCRadio 1 show. Throughout a burgeoning career their music has garnered respect from some of the biggest names in techno and lead to rework requests from the likes ofStephan Bodzin, Sasha, Oliver Huntemann, Who Made Who, Sailor & I and inclusion onTale of Us' Fabric Compilation.
Always looking forward and aiming to innovate, in 2017 the duo brought to life a project they had been hoping to realise for many years... their own imprint Oddity Records.Starting the label as an opportunity to have full artistic control over releasing their own music whilst giving like minded artists a platform to showcase their talents. Having brought many new & exciting artists such as Mathame and Natural Flow plus invited on board killer remix talent such as SLAM, Radio Slave and Locked Groove, the project now has its 5th release under its belt and provides the perfect creative outlet for Fur Coat to add to their endeavours. Moving forward 2019 is set to be another defining year for the duo, having already released their first EP of the year 'Babel' via Sasha's Last Night On Earth, the pair are also planning an upcoming release via Marc Romboy's Systematic Recordings. Oddity will continue to be a key focus throughout the year and to accompany their musical output there is the usual busy schedule of key shows across Europe, North & South America andAsia. Fur Coat's story continues as they carry on pushing boundaries and delivering their deep, driving sound to ears within the most revered venues globally